Gulyás János és Társa Kft.
GINOP-1.2.8-20-2020-01084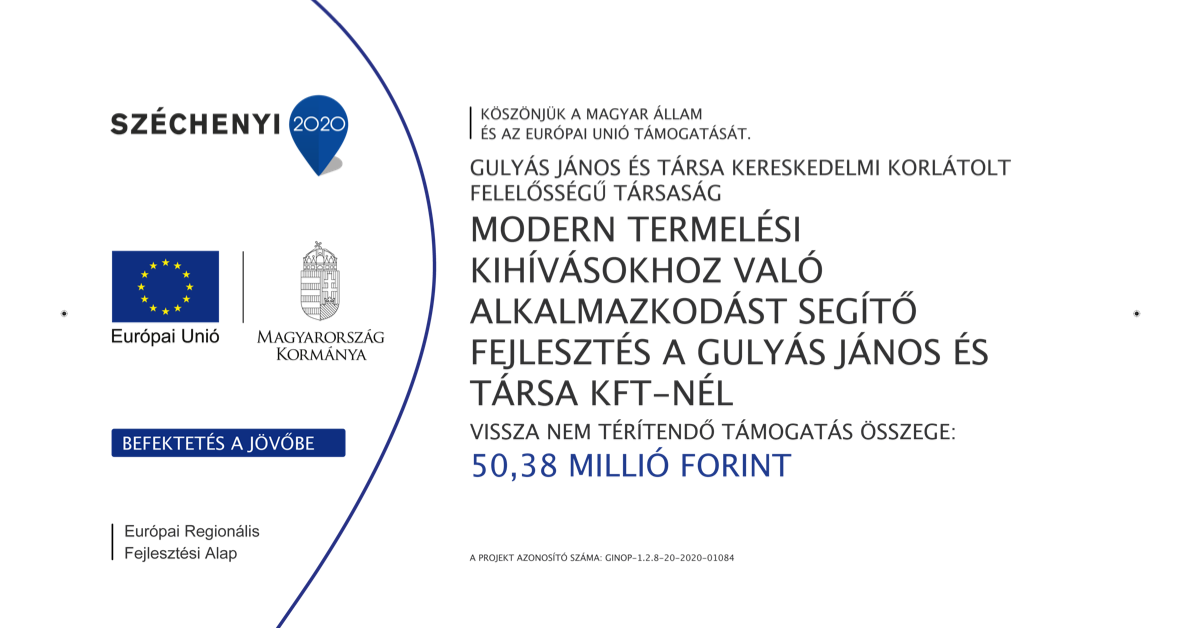 Name of the project: Development to help the adaption to modern production challenges at Gulyás János és Társa Kft.
Identification number of project: GINOP-1.2.8-20-2020-01084
Amount of contracted support: 71.971.502 HUF
Extent of support (in %) 70%
Expected finishing date of the project: 28.1.2022.
In the project, our firm would like to develop and optimize its production. During its 20 years of operation, our enterprise has striven to produce the traditional, hungarian tasted products with the most modern machines – as it could.
Our operation covers two areas: slaughter activity and processing. The slaughterhouse on the outskirts of Felgyő processes an average of 100 pigs per day, however we modified the quota quantity to 125 units/day, based on market demands. Littering of the live animals that are waiting to rest is currently done by hand.
As the part of the project, we would like to purchase a BOBCAT S450 T5 type skid-steer loader with bucket positioning and bucket, with gripping set. With this, we could trigger hand work at live animals, because with the help of machines, it would be easier to push out the litter easier. Not only faster, but more thoroughly we could do this work, but only 1 person would be needed to operating the machine and the now there-working employee could be organized to other working area.
Even before the coronavirus epidemic we had been extremely careful during cleaning the plant, because it is a basic requirement in food industry. However, durint the epidemic, we focused on it much more, and condensed the number of cleanings. As the epidemic has subsided, but the hazard has not passed, we would like to install a Karcher HDS 13/20-4 SX type hot water high pressure washer, which could help us make the cleaning more effective, more intensive and faster, so that noone from the production would be needed for this activity. With this, we could further optimize our operation, but we could enhance cleanliness.

To the production processes, we would like to purchase two machines with the project. At a firm, with such a huge goods turnover it is funadamental to move heavy products quickly, efficiently and reliably regarding to materials and finished products too. For this a modern, new STILL forklift would be a perfect solution.
At the production department, we have the basic machines. But we have transported mainly to public institutions so far, we need to produce in larger package for them. Smaller packaging units should be done by hand: we make the slicing machine cut the products and then we put them into the vacuum machine by hand. During the 10-12 hours manual work, many scraps, qualitatively imperfect products are made, because it is quite hard to produce unitary, perfectly made products by hand.
Now, as we have created a webshop, there is much more room for the production of small packaged, sliced, vacuum packed products. That is why it is vital for us to be able to buy a MULTIVAC vacuum machine, as we planned. This up-to-date, modern machine would make this part of the production more effective. With it, we can expand our product range and improve the quality significantly.