Gulyás János és Társa Kft.
1. Editor, Owner, Operator
The website's content editor, felgyoivagohid.hu (hereinafter: Website), the Owner, the data controller is Gulyás János és Társa Kft. slaughterhouse and meat plant (hereinafter: Owner of the website). The technical background of the site's operation is provided by Web-Server.hu (hereinafter: Operator).
You, as the visitor of the website (hereinafter: User), with the visitation, you accept the Website's terms of use and the points of the privacy policy listed below.
2. Registration, access, comments
It is not needed to register or provide personal datas to see appearing contents on the Website, those are freely readable without any compensation, by clicking on the name of the article.
The Owner maintains the right to restrict some parts or whole parts of freely accessable contents for certain Users, in case the Users' activity/activities cause malfunction of the Website's operation, may they cause vandalism.
You can comment on our posts, for that, you sould enter your name (monogram, nic-name etc.) and your e-mail adress. Your personal informations will be treated confidentially and will only be used to operate the post module and will not be passed to a third person. We moderate the posts with certain exclusionary keywords.
3. Contact
If you have any questions, or you would like to contact us for any purpose, visit the Contact Us page and fill out the appearing form.
For contacting us you should provide your full name and e-mail adress. Your personal informations will be treated confidentially by us and we only use it for reply e-mail, it will not be passed to a third person.
4. Measuring visits
The Owner measures webpage visitors, number of visitors and their traits by Google Analytics webanalitic service. During its service, Google Analytics logs many traits of the Users:
from which page they come
what internet browser they use
what operating system they use
what monitor resolution and color depth they use
what pages they visit at the website
what time they take at one page by visiting
what searches they perform with the website's own search engine
Stored datas by Google Analytics are not suitable to identify you by name as a private person, but later during your visit, it can recognize that someony has visited the Website from your computer, with the browser used by you.
For the measurement, the system uses and places small data files, so-called cookies in your browser.
In case you do not want Google Analytics to measure the above mentioned datas, install a blocker into your browser.
5. Responsibility
The Owner of the page and the Operator do their best to handle datas with the highest possible level of security and with circumspection, that become its property (whether it is a personal data or data that is not related directly to a person).
The Owner of the page does not take responsibility for any illegal attitude, vandalism, malfunction of the Operator's server or the negligent, illegal behaviour of the Operator that cause the data falling into a third person's hand.
In case the User claims that the Owner and / or the Operator of the Website has violated his / her rights of protecting own datas, he / she may enforce his / her claim or claims before a civil court or seek the assistance of the Data Protection Commissioner according to the Act No. LXIII Of 1992 On the Protection of Personal Data and the Publicity of Data of Public Interest.
6. Validity
This privacy policy is valid from 25th May, 2018 until it is revoked. The Owner of the Website reserves the right to modify this privacy policy at any time. If the content of this policy changes, the Owner informs about it on the opening page of the Website, in a clearly visible place.
Thank you for your attention!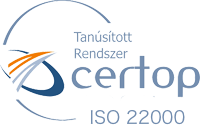 A felgyői vágóhíd magazinjában elsősorban receptötletekről és konyhai praktikákról írunk érdekes és hasznos cikkeket, amivel könnyebbé tesszük a konyhai készülődést.